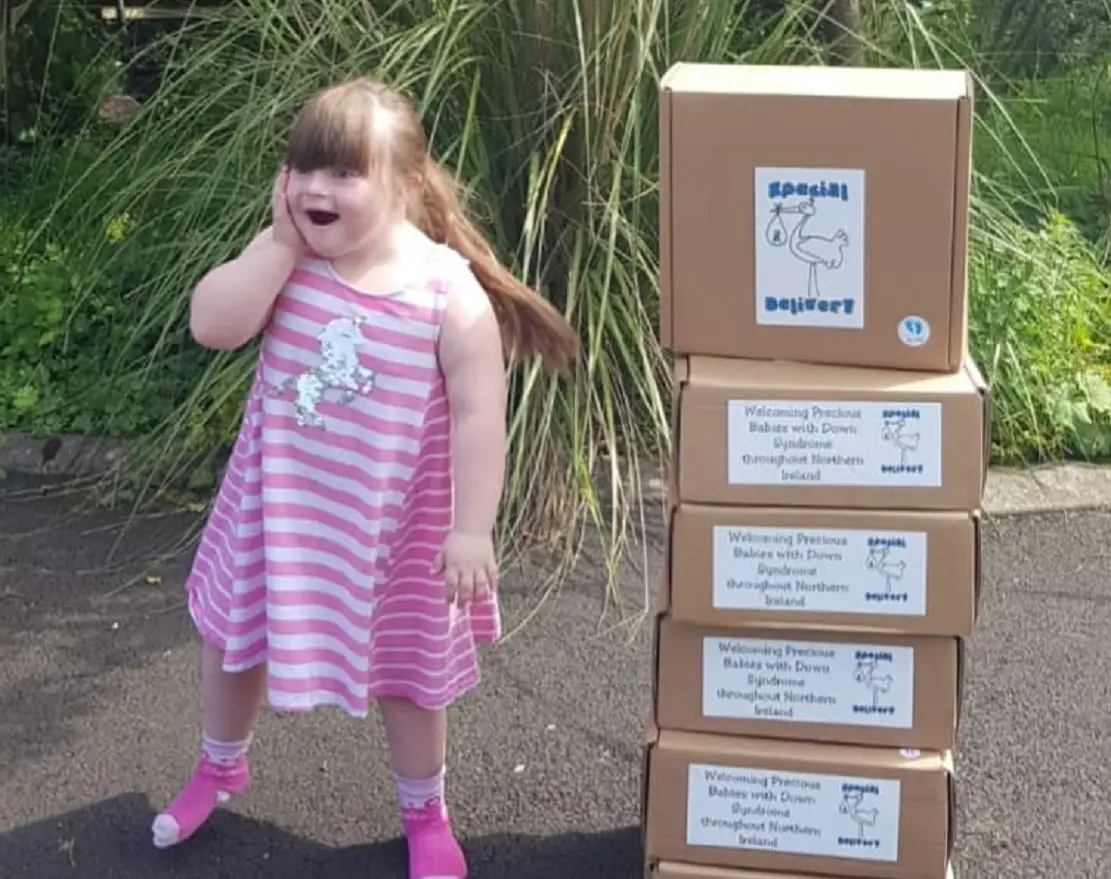 Praise for Down's Syndrome Charity Providing Gifts of Hope for Special Arrive Moms – Armagh I

Aoife Cushenan (8) helps prepare some of the special delivery boxes
A mom whose baby was born with Down syndrome said that a gift box from a charity set up for new moms like her was "so adorable" and a real help when she needed it.
Nicola Massey, of Lurgan, received the surprise box from Special Delivery NI while in hospital with Eli, now eight months old.
The association was created by Ballymena's wife, Clare Cushenan, whose daughter Aoife was born with the disease in 2013.
Her goal is to celebrate special children like Aoife and Eli and to reassure new moms that life can be positive and full of hope and joy.
Clare, who formed the association in March 2020 to coincide with Down Syndrome Awareness Day, has launched an online Christmas fundraising appeal to allow her to continue providing the gift boxes.
Since its inception, the association has offered more than 100 gift baskets to mothers in all maternity hospitals in Northern Ireland.
They contain items such as handmade blankets, hats and cardigans, baby clothes and quilts as well as scented candles and toiletries for moms and a good photo.
They also contain the wouldn't change anything and #No one told me books, full of positive information about Down's syndrome and aimed at changing outdated perceptions.
Clare and her husband Owen have two older children, Michael and Maria, and were unaware that Aoife had the disease until she was born.
Thinking back to the first days of Aoife's life, Clare says she regrets the time she spent worrying about Down's diagnosis, rather than celebrating the birth of her beautiful baby.
"We rarely think about Down syndrome now – it's just something Aoife has. Rather than being negative, it's quite the opposite, "she said.
"Aoife has taught us more than we will ever teach him. She made us not only better parents, but also better people.
"I just want to make sure that every baby born in Northern Ireland is celebrated, that moms feel reassured and appreciate their wonderful, new child and don't waste those precious first days worrying."
Nicola knew from his 20-week scan that Eli had a rare health condition – long-range esophageal atresia – that made him unable to swallow and meant he had to be fed through a tube.
While she had prepared for it, she did not know until birth that Eli also had Down's syndrome.
"It was a little surprise and I didn't know much about Down syndrome until I had Eli," she said.
"There were lovely little things in the boxes, tons of little baby things you need, and some absolutely gorgeous books. I read the stories and they were so positive, "Nicola said.
"I thought 'it's a new world but it's not what people say it is."
"Clare had also sent a letter with her email address and I had emailed her thanking her. She sent me her cell number and told me she was there if I needed to talk to her.
"The boxes are just really, really thoughtful."
Anyone wishing to donate to The Special Delivery NI Christmas Appeal can do so through the GoFundMe link here.